Ian and I shared some banter back and forth on twitter and i have loved his site since i first checked it out.. he is funny, posts random pictures and has a good humor to him. With it recently being Veteran's Day, I tried to find a picture of him in his Coast Guard Uniform to be festive but couldn't find one.. I did however, find a pic of him with the Tri Navy team and one of him holding beer and wearing a unicorn shirt that said Always Awesome. Worked for me!
1. Tell us a little about yourself in a few sentences
I grew up in Columbus, NJ, which is a smallish town about 45 minutes outside of Philly and a little over an hour from New York, firmly in the "garden" and farmland part of the Garden State. I was primarily a baseball player growing up, although I dabbled in pretty much everything else including soccer, basketball, and football. Eventually I switched over to cross country, and even after that got old, I started swimming. At that point, I figured I was 2/3 of the way to a triathlon so I may as well give it a shot. Shortly after that I decided to attend the Coast Guard Academy in New London, CT, where I was on the triathlon team all four years, serving as captain my junior and senior year. After graduating, I moved to Virginia Beach, VA, where I currently live, working as a Marine Inspector for the Coast Guard.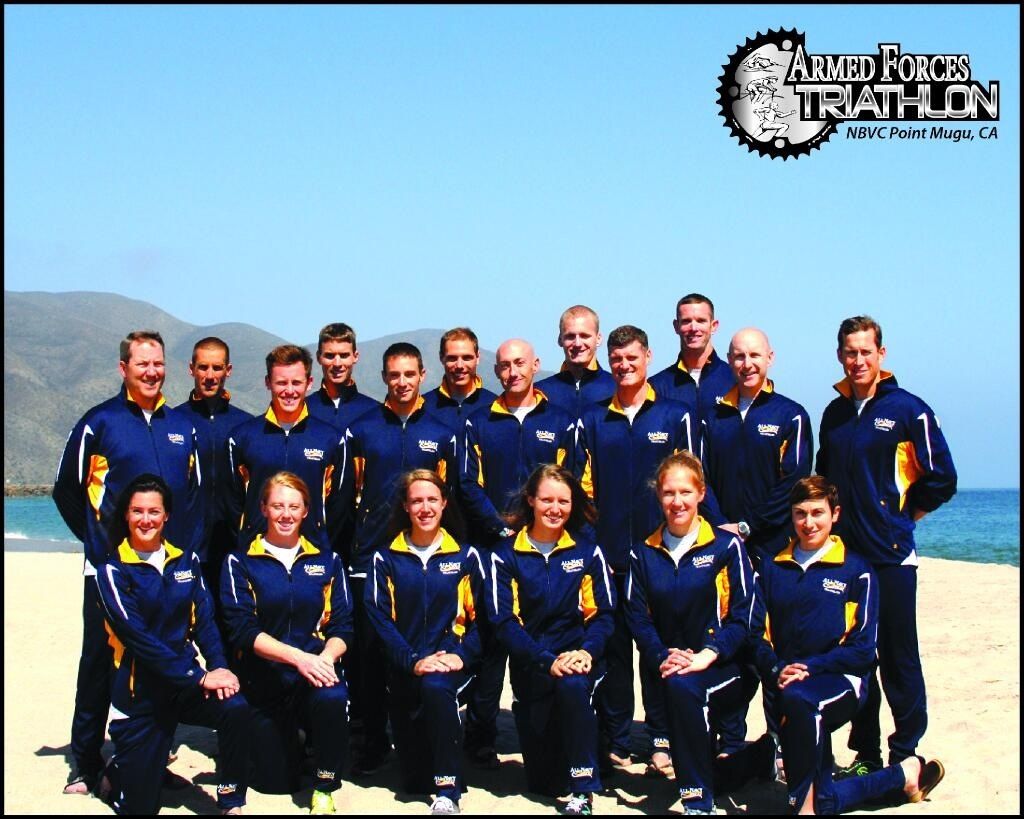 2. As many of us haven't participated in drafting events, what do you believe the major differences are? and any advice for a newbie?
The biggest difference is that the bike is HARDER. It sounds counter-intuitive to some degree, but it is. There's really nowhere to "hide" in a draft legal triathlon. If you can't swim well enough, you miss the pack. If the bike is too fast, you're going to drop off, and then obviously it all comes down to the run. The difference is that rather than picking your own race, you've got to be prepared to do what the other athletes around you are going to do, and try to counter that as best you can. The nice thing about it is that there's a lot less obsession about the latest gadget and gear, and it's a lot more important to just have the engine, which is why I like seeing how it's getting bigger and bigger with the juniors. I didn't know anything about junior elite racing until after I turned 20, which I wish I had. Anybody who can get into that absolutely should.
3. Being a triathlete and active member of the coast guard, i would guess you have a lot of experience in ocean open water. Any advice for those who don't have as much but training for an ocean race.
The funny thing is that I'm not sure I've ever been taught anything about ocean swimming for my job. I inspect commercial ships, so if I'm in the water, something has gone horribly, horribly wrong! I do, however, like my fair share of surfing, so that's probably led to a lot more of my knowledge about ocean swimming than anything. If you can time your duck dives with the waves, as well as sighting to when you're at the top of the wave rather than in the trough, you'll be much better off. For some people I know salt water bothers them a bit, so maybe take an extra little swig of water right away on the bike to get that out of your mouth. Otherwise, I like it better. Body surfing into the end of a swim leg is AWESOME if you can time it right. Of course, if you don't time it right you get stuck in a rip tide and that's less than awesome.
4. What is your favorite distance and why?
I'm going to slightly go off topic and say my favorite individual race is like no other that I know of, called Tri Tri Again. It's a multiple loop, backwards, off-road tri, with a NASTY little 2.2 mi trail run that takes as long as a 5k normally does, a 2 mi mountain bike that feels like it's nothing but climbing, followed by a 150 yd swim...as many times as you can make it through in 3 hours. Other than that race, my favorite distance is probably Olympic. It's long enough that it becomes a thinking man's race, but I almost never feel like the goal is just to survive. However, my experience in racing longer than Olympic is next to zero. I raced one half during my freshman year of college, then I raced an open half marathon my senior year. Other than that, I really haven't race anything longer than Olympic or even a 10k running race. That may change in the next year or so, though..
5. Are you planning to participate in ITU in chicago??
Ahhhh, unfortunately I am not. ITU Chicago is at kind of a bad time of year for me, because I'm hoping to get selected again to race in the Armed Forces Triathlon Championships in late May/early June. After that I'll try to gear up again for a second half of the season with Age Group Nationals and Hy-Vee while trying not to go broke by flying everywhere or putting thousands of miles on my poor Element. Maybe in 2015 when it's Age Group Worlds! I really, really think it's cool that USAT is trying to keep a WTS race on U.S. soil. I've done a handful of non-ITU draft-legal races, whether it's the U25 Elite Development Races or Armed Forces, but none of those have been nearly the spectacle that I imagine having the biggest names would be. I think it can also give more of a new appreciation for just what draft-legal racing is. As I mentioned in my earlier response, some of the hardest races I've ever had were draft-legal races because you're not in 100% control of your race the way you are. I don't think you fully understand it until you do it, but just seeing it is a sight in and of itself.